Biodiesel blends of 20%, also known as B20, are growing in popularity. Here are stories of three suburban Chicago communities that have committed to B20, and the many benefits they've received.
Illinois communities have been on the leading edge of biodiesel use for years. They were initially motivated by a state directive in 2006 to increase consumption of the renewable fuel to help create a healthier environment, provide cleaner air for residents, and reduce dependence on imported oil.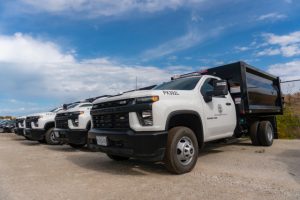 Since then, communities have realized other benefits of biodiesel, such as improved engine performance in their diesel-powered vehicles and lower maintenance costs. The state mandate originally called for 2 percent blends of biodiesel-diesel fuel before increasing to 5 percent, but several local governments have started using higher blends, like B20, to reduce tailpipe emissions and particulate matter.
Biodiesel blends of 20 percent, also known as B20, are growing in popularity. The B20 Club of Illinois, a partnership of the American Lung Association and the Illinois Soybean Association checkoff program, recognizes fleets that have successfully diversified their fuel supply and are committed to educating other communities about biodiesel.
Since 2015, B20 members have consumed 62 million gallons of biodiesel. The reduction in carbon dioxide emissions is the equivalent of planting more than 1.6 million trees, said Bailey Arnold, director of Clean Air Initiatives at the American Lung Association and lead for the B20 Club of Illinois.
"For organizations interested in reducing their carbon footprint, biodiesel is low-hanging fruit that can be safely integrated into transportation operations right here, right now," Arnold said.
Here are three stories of suburban Chicago communities that have committed to biodiesel:
Carol Stream
The Village of Carol Stream, a western Chicago suburb, recently transitioned its municipal fleet to B20 from standard ultra-low-sulfur diesel. The switch to B20 demonstrates the community's dedication to environmental and sustainability efforts.
Using B20 will prevent the release of nearly 25 tons of CO2 annually into the environment, among other operational benefits like improved engine performance and lower maintenance costs.
The village's fleet of vehicles includes light- and heavy-duty trucks, backhoes, loaders and utility task vehicles (UTVs) — all of which emit less CO2 into the atmosphere when fueled with B20. And the switch to B20 required no engine modifications.
"Since we switched to B20, all our vehicles and generators are running smoothly, and we haven't noticed a difference in performance. What has changed are reduced emissions into the environment, along with a healthier workplace for our employees and cleaner air for our community," says Phil Modaff, Village of Carol Stream public works director.\
Elmhurst
"Our city was concerned with overall sustainability and looking for a green program. B20 was the best solution," says Chanel Caron, (retired) Fleet Manager for the City of Elmhurst, another suburb west of Chicago. "Using B20 in our fleet vehicles has been a simple and seamless way to improve the air in our community. It's a carbon-reduction solution that any sized fleet can benefit from."
Use of B20 in the Elmhurst fleets results in an annual CO2 reduction of 113.4 tons — the equivalent of 112,545 fewer pounds of coal burned, or 1,702 new trees planted.
Before joining Elmhurst, Caron had years of B20 experience at ComEd — Illinois' largest electric utility. Caron brought his biodiesel learnings to Elmhurst's diesel fleet, including the importance of starting with a clean fuel storage tank before switching to B20 to eliminate any potential fuel problems resulting from contaminated tanks.
"When you start a biodiesel program, you need to inspect your tanks and look for the presence of water, bacteria and sediment," he explains. "If you find contamination, you need to have the tank professionally cleaned before adding B20. This important step will help prevent issues with the new fuel."
Oak Park
Just outside the Chicago city limits, the Village of Oak Park runs its fleet on B20 as part of its commitment to clean air and environmental stewardship.
"Oak Park has always been at the forefront as a green community. We place a high priority on environmental stewardship," said Ken Crowley, superintendent of fleet services for the Village of Oak Park. "We do everything we can to keep the air we breathe as clean as we can, and biodiesel is a very simple way of doing that."
Oak Park uses B20 year-round in all municipal vehicles that run on diesel, from fire engines and ambulances to snowplows and street sweepers.
"B20 helps reduce our emissions by reducing the particulate matter put out by our engines. Our carbon footprint is also lower because our CO2 emissions are decreased," Crowley said. "I would encourage anybody who uses diesel to switch over to B20. It's a drop-in alternative that helps all of us have a cleaner environment."
In addition to the municipal members mentioned above, the Chicago Park District, City of Moline, City of Warrenville, Forest Preserve District of DuPage County, and Village of Arlington Heights use B20 to power their vehicles reliably and sustainably.
By Illinois Soybean Association
Originally Published Dec 18, 2020
Updated April 26, 2022