Ever wondered about the feasibility of hydrogen as a sustainable alternative fuel? Chicago Area Clean Cities will host a hydrogen webinar on May 27 to explore the possibilities of hydrogen. Featuring speakers Amy Adams, vice president of fuel cell and hydrogen technologies at Cummins Inc., and Mark Gordon, chief financial officer of Hyzon Motors, the event will explain how fuel cells and hydrogen have the capability to power the vehicles of today and tomorrow.
Hydrogen can be produced from a diverse array of domestic sources, making it an attractive choice as an alternative fuel as the U.S. does not have to rely on countries abroad to import it. This makes it an economically stable and consistent option. It is stored in water, hydrocarbons and other forms of organic matter where it can be efficiently extracted and purified into the fuel, pure hydrogen.
While the market for hydrogen is still young, the government and the private sector are exploring its ability to power fuel cells and release no emissions in electric vehicles (FCEVs). In vehicles like this, the automobile will use electricity to power an electric motor—but unlike typical EVs, an FCEV (fuel cell electric vehicle) will rely on hydrogen to power the battery instead of being charged while stationary.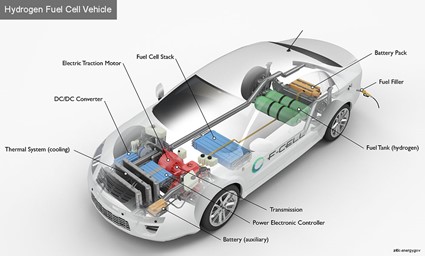 As seen in the diagram by the U.S. Department of Energy, the size of the fuel tank will determine the amount of energy available, in addition to the total possible amount of power. Companies like Cummins Inc. are seizing the opportunity to lead on hydrogen technology, hoping to control the market of hydrogen-related products.
At a November 2020 virtual event by Cummins, Chairman and CEO Tom Linebarger underlined the potential for a hydrogen-powered future. "Hydrogen technologies, particularly electrolyzers, will be a fast-growing and increasingly important part of our business over the next few years," Linebarger said. "As momentum increases worldwide for the use of hydrogen solutions, we will continue to leverage our industry-leading hydrogen technologies, our deep customer relationships and our extensive service network to enable [hydrogen] adoption."
Beyond hydrogen's economic benefits, the fuel promises no carbon dioxide emissions while it is being burned through a fuel cell—water vapor is the only by-product. International automobile producers like Honda and Toyota have already created hydrogen-powered class one vehicles, often times incentivizing buyers with fuel credits (Honda promises $15,000 in hydrogen fuel upon purchase of the 2021 Clarity). While dealerships that offer these types of vehicles are limited, their existence creates hope for the future of hydrogen.
To learn more about the hydrogen industry and how hydrogen-powered vehicles work, attend the Chicago Area Clean Cities event next Thursday, May 27 at 11 a.m. Register here for the webinar.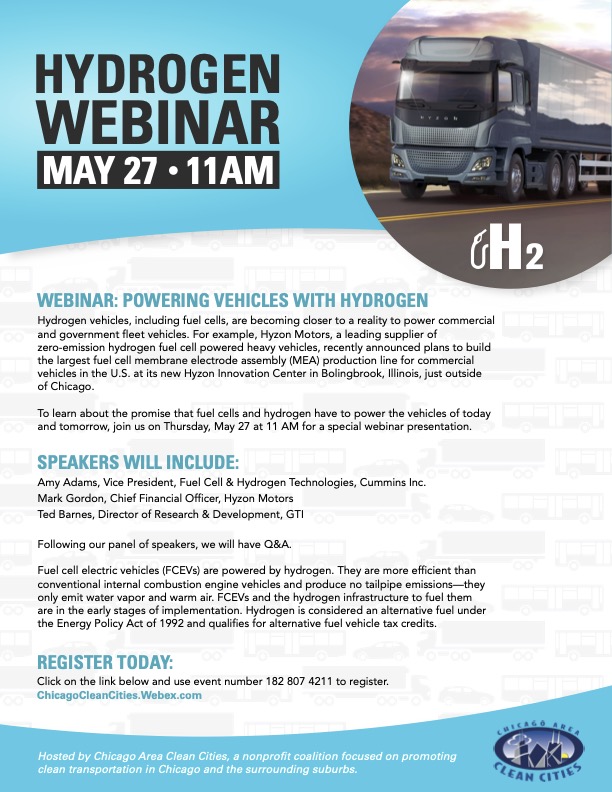 By Jenna Spray
Chicago Area Clean Cities