EVmatch, the first electric vehicle (EV) charging platform for connecting EV drivers with nearby private chargers through a reservation-based system, has a new publicly-available Level 2 charging station located at St. John's Episcopal Church, 3857 N Kostner Ave in Chicago's Old Irving Park neighborhood. As the charging station host, St. John's listed its charger on EVmatch to make driving EVs easier for community members – whether it's neighbors of Old Irving Park, many of whom rent or live in multi-family housing without a reliable place to charge, or other Chicagoans visiting the neighborhood in electric cars and needing a spot to charge up.
EVs in Illinois
Electric vehicles are gaining popularity in Illinois. Over 30,000 are registered in the state today, double the number on the road in 2019, and it is projected there will be between 600,000 and 2.2 million EVs in Illinois by 2030. Today almost every major automobile company is selling or preparing electric vehicles tailored to consumer needs – from electric Mustangs and Hummers to pickup trucks and SUVs – more models and styles (both plug-in and full battery electric) are coming out every year. Illinois also hosts a significant transportation electrification workforce. For example, Rivian in Central Illinois is making 100% battery-powered electric pickup trucks, and EVBox in Northern Illinois manufactures charging stations. Likewise, Lion Electric is breaking ground on an electric school bus and truck factory in Joliet this fall. Jobs in electric transportation and EV infrastructure are expected to grow 83% by 2024 and will provide a significant boost to the state's economy.
In general, people like driving electric and save money driving electric. EVs are quiet, produce zero tailpipe emissions, and have lower maintenance costs than their gasoline counterparts.  While EVs are a critical part of reducing greenhouse gas emissions and air pollution, not everyone can feasibly drive electric. Many people, especially in a dense city like Chicago, don't have a dedicated parking space with a place to charge their car – at home, work, or other destinations on their route – which creates a significant barrier to EV usage.
Charging in Chicago
St. John's charger is part of an initiative being spearheaded by Vanessa Perkins with Community Charging Initiative – a local Chicago volunteer project to increase EV charging access – and EVmatch. The community charging pilot in Chicago is funded by the Keeling Curve Prize for Global Warming Mitigation, awarded to EVmatch last summer.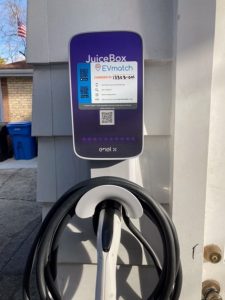 "EVmatch is excited to distribute funds from the Keeling Curve Prize to expand our community-based EV charging network in Chicago's urban residential communities, especially those with limited affordable public charging options" founder and CEO Heather Hochrein said. "This prize money will go to local businesses and nonprofit organizations like St. John's to pay for charging hardware and installation services, and then they'll be able to make those chargers available to the public and recover electricity costs through our EVmatch software."
"Much of Chicago is very underserved in terms of easy-access, affordable, and publicly available charging infrastructure. Outside of the downtown area, paid parking garages, and some Northside communities, there's very limited public EV infrastructure. Chicago also has a high percentage of renters and apartment dwellers, and we saw an opportunity to leverage local community businesses and houses of worship in neighborhoods that will really benefit from having a Level 2 (240 Volt) charging station that's affordable and available to the public through a reservation-based system for optimized sharing."
Vanessa Perkins leads Community Charging Initiative, which supports access to affordable and reliable charging by leveraging existing infrastructure and the sharing economy. She was excited to collaborate on the Keeling Curve grant project and find so much support for building a community charging pilot.
Vanessa spent a year researching the distribution of public EV charging infrastructure in Chicago and the opportunity for a peer-to-peer charging model in Chicago's urban residential neighborhoods. As a used EV owner and apartment dweller (with street parking only), Vanessa's research was inspired by the challenge of finding affordable and reliable charging near her home and work (the only chargers near Vanessa's home and work were for Tesla drivers only). Through a fellowship with Environmental Entrepreneurs (E2), Vanessa surveyed neighborhood sites (community centers, small businesses, houses of worship, etc.) to determine whether neighborhood organizations would be interested in hosting a level 2 commercial EV charger. Hearing many potential hosts express interest in building chargers in their lots to support electric vehicles (if they had extra parking spaces), they expressed concerns over installation and hosting costs, as well as the need for access control, cost recovery, pricing flexibility, and reservations.
She found the EVmatch app helped solve many of these issues and teamed up with the charging solution to build a community charging pilot with the Keeling Curve grant.
Charging the Community
The installation was made possible with the experience and technical expertise of Chicago-based BIG CLEAN POWER, LLC, a worker collective incubated by Blacks in Green (BIG, NFP) and its affiliate Green Power Alliance to connect trade professionals to clean energy business deals.
Blacks in Green founder Naomi Davis is a leading advocate in environmental justice and energy equity and in the development of sustainable-square-mile neighborhoods, their signature initiative.  These walkable villages are designed to grow economies in energy, housing, tourism, and horticulture, beginning with their West Woodlawn pilot.
Through its Green Power Alliance, BIG has assembled a team of subject matter experts, contractors, professionals, and community residents to encourage Electric Vehicle stations on the South Side, facilitating connections with local professionals such as Arthur Burton of AMB Renewables and Wendell Terry of W. Terry Electric, members of that cohort.
EV Match, St. John's Episcopal Church, and the Community Charging Initiative are pleased to have partnered with BIG, Blacks in Green in identifying energy conscious contractors to perform the installations.
BIG considers this an important step in its goal of walkable communities, moving away from fossil fuels and toward renewable energy on all levels. It is encouraging and partnering with other organizations on decarbonization efforts, solar energy installations and other conservation and sustainable community initiatives. BIG is also in the process of installing a new EV charging station at its Green Living Room headquarters in West Woodlawn.
Terry and Burton collaborated to design and install the level 2 commercial EV charger at St. John's on an electrical team led by Terry, a master electrician and certified EV installer.
"We understand the cause and effect of fossil fuel on our environment. As an energy efficiency service provider, we believe that carbon footprints must be reduced to have a sustainable climate and see how electric vehicles play a role here as well. AMB Renewable Energy Inc. is extremely excited about the opportunity to install electrical vehicle infrastructure in Chicago. This opportunity BIG CLEAN POWER provides will allow us to grow our business, support neighborhood outreach, and create clean energy jobs within our community," said Arthur Burton, managing director.
As a Chicago-based minority-owned business with over 40 years' experience in the industry, W. Terry Electric LLC has been a witness to the evolution of consumer preferences in response to an increasing consciousness around the importance of sustainable energy consumption.  In the words of Wendell Terry, "EV charging stations are an entrée for communities to help reduce CO2 emissions as the use of electrical vehicles will lead to cleaner and healthier cities.  We recognize that the demand for more EV charging stations and larger sized charging stations capable of accommodating more vehicles will only increase."  W. Terry Electric looks forward to the opportunity to serve this increasing demand.
Terry and Burton share BIG's goal of mentoring a 21st century workforce to build and sustain world class infrastructure for black communities and providing on-the-job training for all neighbors interested in studying electrical installation and service.
Community Charging Host
St John's congregation has been working to become a more sustainable parish, looking at everything from composting vegetable scraps and reducing plastic use to installing more efficient lights. Understanding that climate change will harm the poorest and most vulnerable people in the world, St Johns was interested in doing more to reduce greenhouse emissions. Providing a publicly-accessible electric vehicle charger to neighborhood residents, parishioners and even travelers from the nearby Kennedy expressway aligned with this goal. Parishioner Brian Urbaszewski works for Chicago-based Respiratory Health Association and had learned about the grant opportunity while working to pass the Clean Energy Jobs Act (CEJA) bill in Springfield. The bill aims to dramatically increase clean renewable energy generation and transportation electrification in Illinois to reduce air pollution and greenhouse gases, while ensuring that people and communities that have historically been excluded and disinvested benefit from the economic growth and jobs that clean energy investment will bring. In that effort he had been working with Naomi Davis, Founder/CEO of BIG, NFP (Blacks in Green) and connected the St. John's project with an initiative she was spearheading to get more members of the Black community into careers as electricians and business owners in the clean energy space and green economy.
Update: Clean Energy Jobs Act (CEJA)
There is significant momentum around the Clean Energy Jobs Act and Springfield is close to a decision. We encourage you to read more about it and reach out to Naomi Davis and Brian Urbaszewski to learn more.
Update: More Community Chargers!
Check out our other community chargers by using the EVmatch app!
Last month, two more community chargers with EVmatch were installed by the project team at Plant Chicago in the Back of the Yards neighborhood. Plant Chicago is a center for circular economy programming that equip people and businesses with the tools to live more sustainably through community-driven, hands-on programs and innovative research projects. Check them out and make a charging reservation here.
More Information:
Are you interested in hosting or using community charger? Contact: Community Charging or EVmatch
EVmatch is a California-based, female-led technology company aimed at increasing electric vehicle (EV) adoption by making charging easy, reliable, and accessible to all. EVmatch operates a nationwide peer-to-peer EV charging network that enables individuals and business owners to rent out private charging stations, earning money and supporting their communities. The EVmatch app is available for download in the Google Play and Apple App stores, and at www.evmatch.com.
If you are interested in charging at St John's, check availability and make a reservation right here, and use EVMATCH5 to receive $5 of free EVmatch charging credit.
Are you interested in connecting with our experienced design and installation team to assist with a quote?
Contact: Arthur Burton with AMB Renewables and Wendell Terry of W. Terry Electric LLC
Are you interested in learning more about the Illinois Clean Energy Jobs Act, BIG CLEAN POWER, LLC, the Green Power Alliance and the work of Blacks in Green (BIG, NFP)? Contact: Naomi Davis, founder, Blacks in Green
BIG, NFP is author of The 8 Principles of Green-Village-Building™, The 12 Propositions of Grannynomics™, and the Sustainable Square Mile Handbook™.  They are an environmental economic development organization serving as a bridge and catalyst among communities and their stakeholders in the design and development of green, self-sustaining, mixed-income, walkable-villages within black neighborhoods.  Their goal is: every black household can walk-to-work, walk-to-shop, walk-to-learn, walk-to-play, neighbor dollars circulate locally to fertilize their self-interests, and greenhouse gases are reduced.