Sales of plug-in electric passenger vehicles have grown exponentially in Illinois over the past few years. The chart below shows the increase in EV registrations from 2014 through 2020. As we close out 2021, industry reports indicate that Illinois is due for another record-breaking year of growth.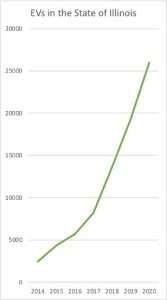 Image Source: Illinois Secretary of State Data
Surprisingly, during 2020, which was dominated by the COVID-19 pandemic and stay-at-home living, EV growth had its best year yet, with sales increasing 26% year-over-year.. In Illinois, 2.7% of all vehicle sales were EVs. Compare that to the highest EV-sales state of California, which began pushing EVs nearly a decade ago, and you can see that Illinois is a market ripe for EV growth. EV growth is greater in states that have significantly invested in EVSEs, also known as charging stations. By decreasing "range anxiety," states encourage EV ownership.
The last two years have seen electric vehicles growing rapidly as a percentage of total car sales. In Q3, electric vehicles were 10% of new car sales in the United States. This includes plug-in hybrids, meaning that nationally electric vehicle car sales are growing substantially and will only continue to grow as new makes and models are introduced.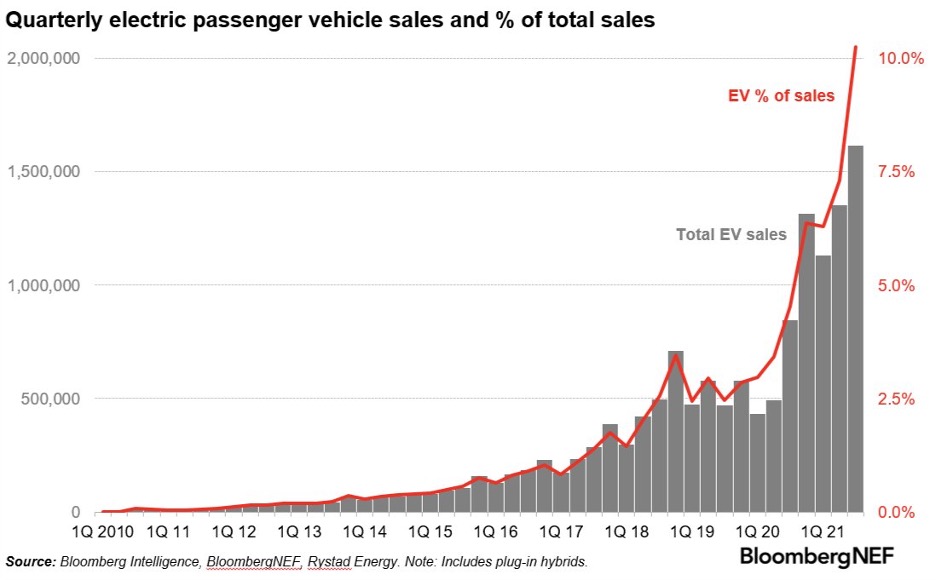 Image source: Bloomberg Intelligence (university license)
However, nationwide it is worth mentioning that EV growth has been segmented to mainly major metropolitan areas. The 50 most populous metropolitan areas in the U.S. accounted for about 77% of new 2020 electric vehicle registrations, approximately 61% of the total light-duty vehicle market, and 55% of the U.S. population. These 50 areas together had electric vehicle uptake of roughly 3.2%, more than five times the 0.6% uptake in the rest of the country.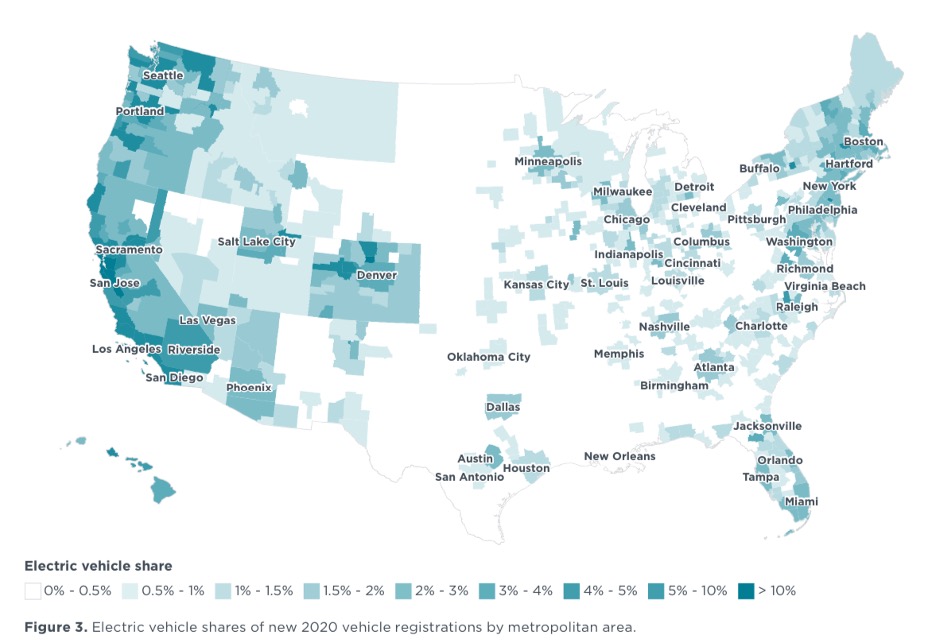 Image source: https://theicct.org/sites/default/files/publications/ev-us-market-growth-cities-sept21_0.pdf
The Illinois Secretary of State tracks monthly registrations of new electric vehicles here, to keep up to date on how many EVs are being registered in your county or zip code, see the list at this link.
As prices of EVs reach parity with gasoline-fueled cars, these trends are expected to continue. According to a recent survey of 1,000 global automotive executives, by 2030 EVs will make up nearly 50% of sales in major markets, including the U.S., Japan, China and Western Europe.
The KPMG study predicts that the significant uptake from less than 10% of the global market now will be driven by battery-powered models achieving a cost equal to vehicles propelled by traditional internal combustion engines.
With dozens of new EV models being introduced by automakers over the next few years, and demand for EVs steadily growing, EV sales will more than likely continue to grow at a rapid clip both in Illinois and nationally.
By Jonah Berg-Ganzarain
Chicago Area Clean Cities