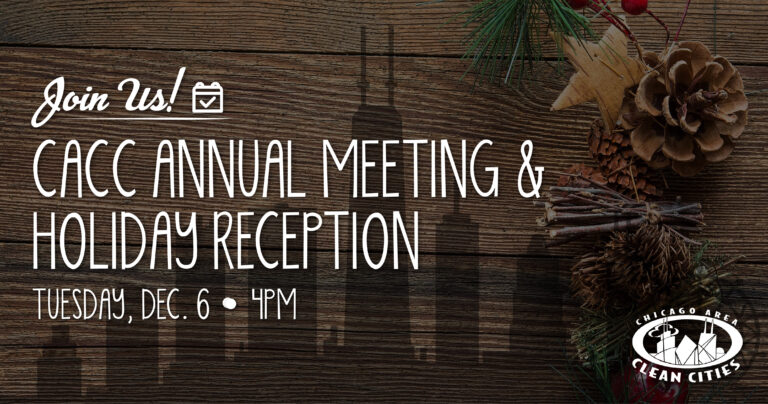 Annual Meeting and Holiday Reception
Mark your calendars for the Chicago Area Clean Cities Annual Meeting and Holiday Reception, where we will review the successes of 2022 and discuss programs, plans, and events for 2023. The CACC 2022 Awards, including the Clean Fuels Champion Award, will be presented. A holiday reception with good food and networking will follow the meeting.
Join us for a special announcement! You don't want to miss this event!
Where: Danada House, 3S501 Naperville Road, Wheaton, IL 60189
When:
Registration starts at 3 PM
Meeting will begin at 4:00 PM
Dinner will be served at 5:30 PM
CACC members and annual sponsors receive a free ticket to this event. If you are a member or sponsor, please email Bethany Kraseman at bethany@chicagocleancities.org for a promo code to use while registering. For questions about membership, please contact Bethany Kraseman. If interested in becoming an annual sponsor, please contact Joe Koenig.
Prefer to join us virtually? This event will also be streamed live. Choose the Online Attendee – Virtual Ticket when registering and a link to join the meeting will be sent to you as we get closer to the event.