Cruising Chicago on B20 Fuel
From extreme thrill rides on Lake Michigan to moonlight dinner cruises on the Chicago River, Hornblower Cruises and Events has Chicago's iconic waterways covered when it comes to marine-based experiences. While entertaining guests, the company also helps preserve the city's water and air quality by using B20 to fuel nine diesel-powered vessels in its fleet.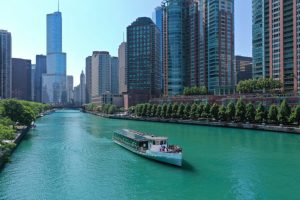 As a leading provider of water-based dining, sightseeing and private charter experiences in the region, Hornblower Cruises and Events takes its commitment to the environment seriously.
Dan Russell, vice president and general manager of the company's Midwest operation explains: "We are honored to provide dining cruises, events and excursions on Chicago's waters, so it's important we protect and defend this valuable natural resource through the safe and responsible operation of our fleet. As stewards of the environment, we work tirelessly to prevent pollution, reduce waste, conserve energy, and use sustainable fuel solutions such as B20 biodiesel."
With a desire to reduce harmful engine emissions, the company first investigated biodiesel in 2019, working closely with Al Warren Oil Co., a Hammond, Indiana-based fuel company serving the Chicago area. Al Warren Oil has extensive experience as both a supplier and user of biodiesel.
Al Warren Oil presented the Hornblower team with details about how biodiesel works to reduce harmful emissions, including carbon dioxide and particulate matter. Clean-burning biodiesel is made from soybean oil and other naturally renewable oils and fats, providing a sustainable fuel option for diesel-powered engines on both land and water.  Much of the oil comes from soybeans grown and processed in Illinois.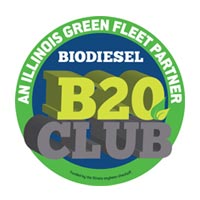 "We studied biodiesel very closely and it looked like a wonderful opportunity to get more progressive. It's a much more sustainable product and we care about that very much," Russell says.
After fully vetting biodiesel with industry experts and mechanics, the company implemented biodiesel gradually starting in June 2019, according to Roselio Tavarez, Hornblower's marine director in Chicago.
"We started with B5 on nine vessels. After using B5 successfully, we came up with a schedule for each vessel to move up to B11 and then up to the full B20 or 20 percent biodiesel blend," Tavarez says. "We've had no issues with the mechanics of the vessels or engines with B20. It's been a great move for us to do what's best for the city and our neighbors here in Chicago."
Operators find B20 works equally well in the full-throttle Seadog boats that generate thrills for guests on Lake Michigan to the company's sleek dining vessels that cruise the city's waterways at a more leisurely pace.
"Lowering emissions is our main goal, but B20 also has been a well-performing fuel for all of our vessels," Russell adds.
View this video for more information on the B20 program at Hornblower Cruises and Events. And, to learn about other companies and municipalities using B20 in the Chicago area, visit B20Club.org.