Ozinga Demonstrates Power of CNG to Reduce Emissions
Ozinga's red-and-white striped concrete mixer trucks make the brand easily recognizable across Chicagoland, but the company's commitment to forward-looking fuels is what really sets the company apart from the crowd.
Serving the Midwest and southern Florida, Ozinga Bros. Inc. supplies bulk materials and concrete solutions for various construction projects via its diverse transportation network. Now in its fourth generation of family ownership, Ozinga leads alternative fuel innovation and implementation—in particular, compressed natural gas (CNG). After employing its first CNG-powered vehicle in 2011, Ozinga's pursuit of CNG vehicles grew considerably, and the company now features the largest CNG-ready mix fleet in the country.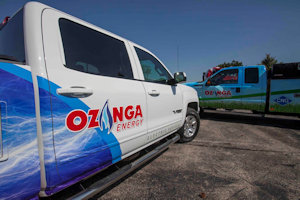 "It's been pretty straightforward since committing to CNG years ago," said Ozinga manager Rich DeBoer, "At this point, we're just looking forward to continuing to expand our number of fueling stations and locations."
Compressed natural gas is an up-and-coming fuel, comprised of mostly methane that has been compressed to less than 1% of its volume at standard atmospheric pressure. CNG poses less of a threat in the event of a spill due to its ability to disperse quickly instead of pooling. Depending on the vehicle type, CNG promises a reduction in carbon-monoxide emissions by about 90% and a 35-60% nitrogen oxide (NOx) reduction. Additionally, the sheer abundance of natural gas in the United States makes CNG a cost-effective option.
The company has transformed into a leading CNG service and product carrier, including providing CNG vehicle parts and station construction consultations. Ozinga itself has opened seven public CNG fueling stations across the Chicago, northern Indiana and southern Michigan areas. The stations are in service 24 hours a day, seven days a week.
Ozinga's own fleet has also grown considerably over the last decade. The company now has more than 200 CNG trucks in its fleet, as well as 50 CNG company support vehicles.
"Going forward, we're excited to commit to renewable compressed natural gas as well as CNG, which is an even better story for the environment," DeBoer said. "CNG products are on the shelves, the technology is there, it's just a matter of choosing them."