Additional electric bus purchase approved; Facilities studies advance
Pace's strategic vision plan, Driving Innovation, includes operating a zero-emission fleet by 2040. Converting a fleet of more than 700 buses to zero emissions is a logistical challenge, but Pace is ready for the task. As the demand for electric buses far outweighs the supply, it is critical that the agency capitalizes on opportunities to secure electric buses and maintain progress on the path to zero-emissions.
In March 2022, Pace's Board of Directors approved the procurement of 20 Proterra buses which will begin to enter Pace's fleet in 2023. At their August meeting, the board approved another electric bus purchase—a 40' Gillig low floor battery electric bus that was leased earlier this year to allow staff to begin gaining operational and maintenance experience. This purchase will allow continued operational and maintenance analysis, providing valuable insight about vehicle performance during the winter months.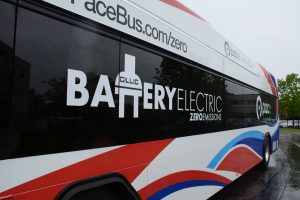 Part of the agency's push towards a more sustainable transportation system includes the study of Pace facilities and service to ensure the transition to zero-emissions is implemented in a thoughtful, strategic, and equitable way. The first electric buses will go to our North Division garage in Waukegan based on equity and operational considerations. We have already installed charging equipment at our new Plainfield garage, and we are evaluating our plans for a new garage in Wheeling to accommodate a future fleet of electric vehicles. As we renovate other garages in our system, our facilities study will likewise look for ways to make our facilities more sustainable.
Pace's Network Revitalization Initiative is one of the first projects identified within Driving Innovation, creating the framework for future service delivery. After a significant loss of ridership, revenue, and staffing levels due to COVID-19, the agency faces an even greater need to assess how to invest diminished resources. Now more than ever there is a need to reallocate resources to develop a regional service network based on market demand providing the appropriate level of service to each travel market. The network revitalization will enable Pace to continue deploying public resources in an efficient manner across the region, ensure future expansion of the system to meet emerging demand markets, and proactively contribute toward climate sustainability and regional social equity.
Pace continues to look for additional funding opportunities to move our system into the zero-emissions era. Pace is flexible enough to adapt to any changes in vehicle technology or other unforeseen circumstances, while ensuring bus service is maintained for the riders who depend on it. Our communities, nation, and planet demand that we all step up in these coming years to imagine a more sustainable way of life.
Find out more about Pace's positive impact on the environment, its steps to confront the climate crisis, and its transition to a zero-emission fleet at PaceBus.com/zero.