Testa Produce Reduces its Carbon Footprint
A family owned Chicago company is leading the way when it comes to being green, and there is lots of green at this company — as in, vegetables.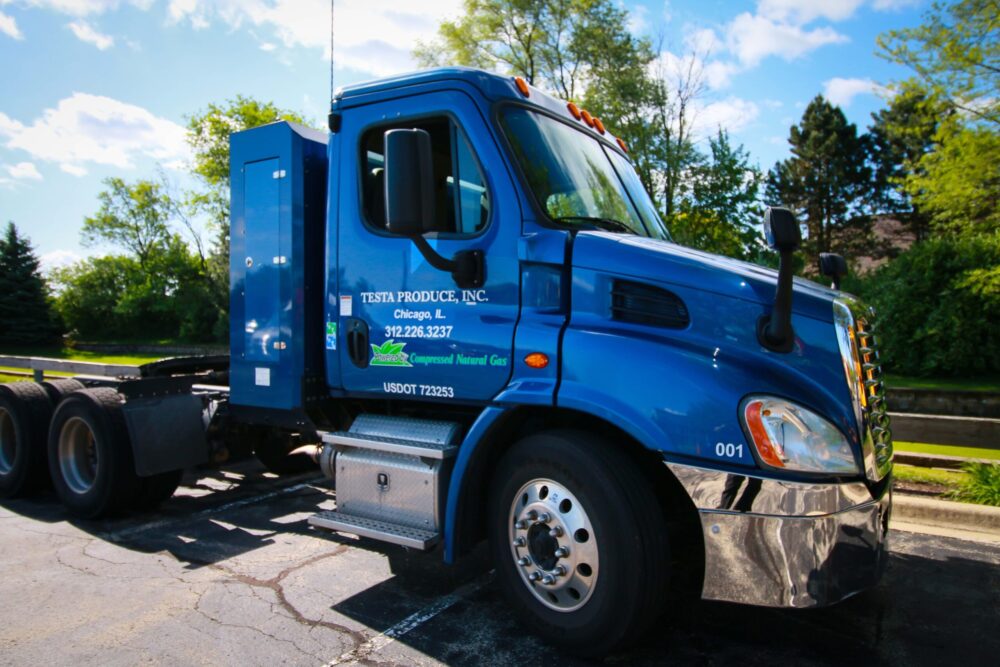 Testa Produce, based in Chicago's Back of the Yards Neighborhood for more than 100 years, operates out of one of the greenest facilities you will ever see – as in, eco-friendly. The company's $24-million three-year-old, 91,300 square-foot LEED® Platinum Certified facility features a wind turbine, solar panels and a 45,000-square-foot green roof.
Owner Peter Testa says going green always sounded like a good idea, but sounding and doing are two different things. It took a real commitment.
"As a produce company, we're naturally a green company," Testa says. "So, using renewable energy and environmentally friendly fuels, it all kind of fits together."
Testa Produce provides foodservice to restaurants, hotels, hospitals, country clubs, sports venues, and catering services.
CNG Delivery Trucks
The Chicago Area Clean Cities' member has 20 delivery trucks that are powered by clean-burning, low-cost domestic compressed natural gas (CNG). Since starting their CNG program in 2012, Testa Produce has displaced more than 1 million gallons of diesel fuel.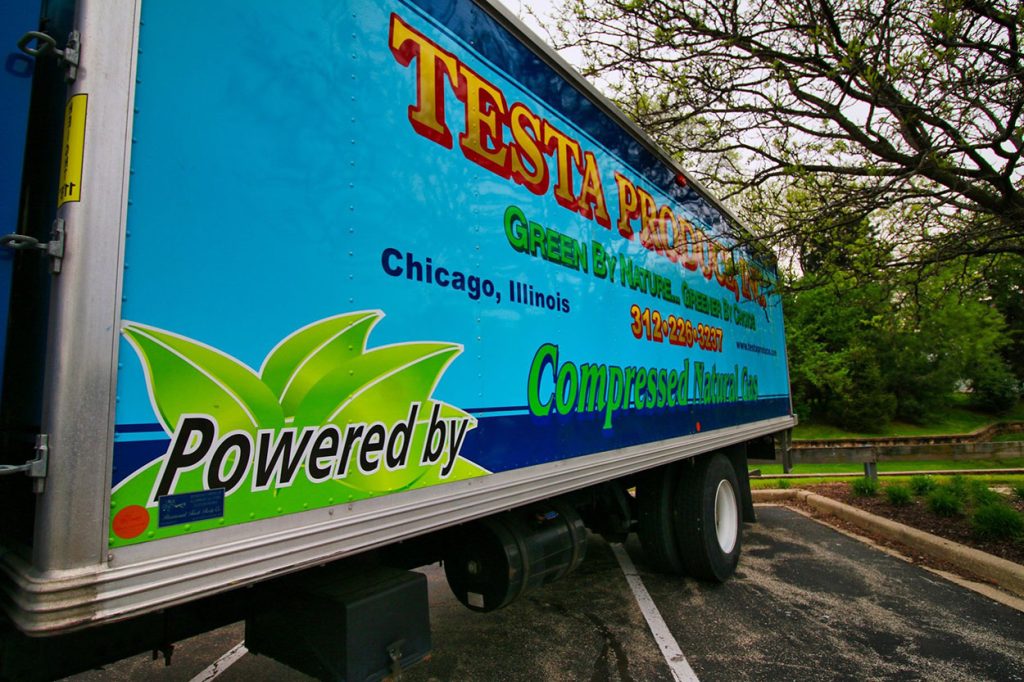 A few years ago, the company won CACC's Clean Fuel Champion award for its green fleet. The award is given annually to an individual, fleet, organization, or business that promotes alternative fuel, uses domestic fuel, or reduces petroleum usage. Other recent award recipients include Forest Preserves of Cook County, Pace Suburban Bus, American Lung Association, and Ozinga Bros, Inc.
"We're always looking for innovative, cost-effective ways to reduce our carbon footprint," Peter Testa said. "Our 24-and 26-foot refrigerated CNG trucks have helped us to lower our carbon footprint, bringing us closer to our goal of zero dependence on foreign oil.
"Having a fleet of CNG delivery vehicles is in line with our commitment to raising the bar on sustainability in the foodservice distribution industry," Testa said.
Prior to piloting electric and CNG trucks, Testa Produce was one of the first companies in the Chicago area to convert its entire delivery fleet to biodiesel, as well as all of its company cars to hybrids. The company even has four solar-powered charging stations at its headquarters building.
Going Green While Saving Green
CEO Peter Testa says the company's environmental initiatives have saved another kind of green — lowering costs by 10 to 15 percent each year. The company expects to payback its investments in green technologies in eight to nine years.
Clean-burning Fuel
CNG is the cleanest burning of the commonly used alternative fuels, generating fewer greenhouse gas emissions than gasoline or diesel. The advantages of natural gas as a transportation fuel include its domestic availability, widespread distribution infrastructure, low cost, and inherently clean-burning qualities. An abundance of natural gas exists in the U.S., and it is what most people use to heat their homes.