Among the up to 40 environmentally friendly vehicles at our Green Drives Conference & Expo on May 3 will be the DANNAR Mobile Power Station, which is a unique EV, unlike anything on the market today.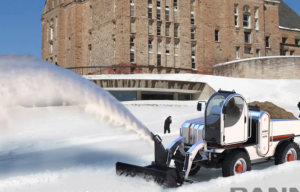 The off-road, zero-emission vehicle functions in two primary ways. First, the MPS is a versatile off-road work vehicle, which boasts modular platforms and work attachment points for daily work tasks.
Designed with public works in mind, it can haul and dump one day, grab and lift another, then be configured to dig and load the next week. Changes are fast and easy for fleet managers, as work dictates.
Secondly, the MPS is a clean, mobile power unit, able to store and deliver electric power (up to 500kWh) to charge vehicles, power equipment, a soundstage, and lights, or to serve as a mobile resilient energy source for unplanned power outages.
To see how it works, visit DANNAR: Always Ready. To learn more about Green Drives, go to our conference webpage.