CEO Liam Donnelly began WasteNot Compost in 2012, operating originally on bike & trailer to collect from his customers. Surging demand coupled with rapid service area expansion required a transformation of his bike operation to something more capable. Dedicated to delivering a sustainable service sustainably, Donnelly has transformed WasteNot into not only the first all-electric compost collection company in the U.S., but the nation's largest EV waste management fleet.
WasteNot began while Donnelly was working at a cafe and noticed the enormous amount of food waste just one cafe produced. After lugging his sixth garbage bag to the dumpster, Liam knew there was a better way to think of food waste rather than an afterthought, it was a resource. He began composting the cafe's waste in his Chicago backyard. Shortly thereafter, neighboring cafes and restaurants signed on with WasteNot, and residents began demanding the service.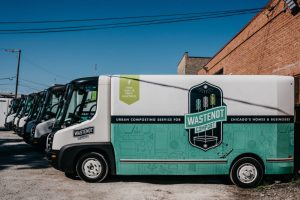 While attending high school at St. Ignatius College Prep, Liam teamed up with his friend and classmate Lauren Kaszuba. Together, they expanded WasteNot's offerings and launched a residential composting solution. With demand soaring, Donnelly, who began the company on bike and trailer out of necessity without a driver's license, wanted to scale the growing and physically demanding company with a sustainable solution. He scoured the internet and was able to find a used electric van, which turned out to be the first electric van ever produced. Instead of taking the easy, traditional road, and just utilizing ICE vehicles, he went with something new, something no one had ever done before, EVs.
Going electric so early has had its challenges, however, Donnelly began growing the fleet quickly and was determined to continue to compost without compromise™ . Today with over 30 all-electric collection vehicles, Donnelly is leading the waste management industry with EVs.
WasteNot Compost provides a compromise-free composting solution to over 5,000 Chicagoland members seeking clean and convenient composting. Members are able to partake in this doorstep service, have WasteNot perform the composting, and then each spring and fall, are able to receive back the finished compost they helped create.
WasteNot has been ranked the #1 compost collection service in the country two years running by Treehugger.com. The company's mission is to help communities compost without compromise™ with a particular focus towards reducing the production of methane emissions emitted from landfills, a potent greenhouse gas the EPA estimates to be 25-36% more potent than carbon dioxide.
Clearly, WasteNot is dedicated to delivering sustainability, sustainably.
To learn more, visit https://www.wastenotcompost.com.