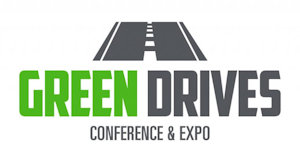 Green Drives Conference and Expo – Naperville
Scroll down this page to see links to the conference recordings, and the list of speaker presentations. Click on speaker names below to view pdf files of speaker presentation slides.
Illinois Alliance for Clean Transportation hosted the annual Green Drives Conference & Expo on Thursday, May 18, 2023 at Northern Illinois University's Conference Center in Naperville, Illinois.
Green Drives – one of the largest clean-transportation conferences held in the Midwest – is an annual must-attend event for government officials, commercial and municipal fleet managers, corporate sustainability officers, and clean-tech and clean-energy professionals who want to learn how to use cleaner, lower emissions fuels and technologies, while saving money.
Advanced vehicle technologies, electric vehicles, and alternative fuels were showcased, including dozens of green vehicles and exhibitors. Attendees not only had a chance to network with experts from throughout the nation and the region, but they learned of first-hand experiences from fleets currently using alternative fuels and electric vehicles. Attendees also had the chance to test drive vehicles of all different sizes.
Green Drives Conference Recordings:
Opening Remarks and Hydrogen Hubs: Current Efforts to Advance Low-Carbon H2 Use in the U.S.
https://vimeo.com/830033707?share=copy
Low Carbon, Clean, and Efficient Vehicle Technologies
https://vimeo.com/830001707?share=copy
EV Charging Station Project Planning
https://vimeo.com/830007645?share=copy
Lunch Remarks
https://vimeo.com/830015923?share=copy
How to Approach Life Cycle Costs of EVs Compared to Other Fuels
https://vimeo.com/830023066?share=copy
How to Measure Vehicle Emissions
https://vimeo.com/830028121?share=copy
Available Federal and State Funding Programs and How to Access Them
https://vimeo.com/830041594?share=copy
Green Drives Conference Presentations: 
Opening Remarks by Chris Lyon, Director of Fleet Relations, NTEA
Hydrogen Hubs: Current Efforts to Advance Low-Carbon H2 Use in the U.S.
Bart Sowa, Senior Project Manager, Transportation, GTI Energy
Low Carbon, Clean, and Efficient Vehicle Technologies
Linda Gaines, Systems Analyst, Argonne National Laboratory
Ashlee McLaughlin, External Affairs Director, Champaign Urbana MTD
Dr. BJ Johnson, Co-Founder & CEO, ClearFlame Engine Technologies
EV Charging Station Project Planning
Moderator: Les Faul, Manager of Fleet Services, ComEd
Elbert Walters III, Director, Powering Chicago
David Novak, Project Manager, Christopher B. Burke Engineering
Giordy Lem, Manager of Fleet Maintenance, City of Chicago
Lunch Remarks
Angela Tin, National Senior Director, Clean Air Initiatives, American Lung Association, Co-Coordinator, Illinois Alliance for Clean Transportation
Dr. BJ Johnson, Co-Founder & CEO, ClearFlame Engine Technologies
Dr. Joy Piazza, Director of Industry and Community Relations, Illinois Alliance for Clean Transportation
How to Approach Life Cycle Costs of EVs Compared to Other Fuels
Jason Kazmar, Director, Electric Vehicle & Sustainability Strategy, Element Fleet Management Corp.
How to Measure Vehicle Emissions
Andrew Burnham, Principal Environmental Scientist, Argonne National Laboratory
Available Federal and State Funding Programs and How to Access Them
Moderator: Angela Tin, National Senior Director, Clean Air Initiatives, American Lung Association, Co-Coordinator, Illinois Alliance for Clean Transportation
Anthony Maietta, Life Scientist, Air and Radiation Division, USEPA Region 5
Samantha Bingham, Clean Transportation Program Director, CDOT & IACT